What is Affiliate Marketing?
Affiliate Marketing is a type of performance-based marketing in which Merchants/Advertisers reward Affiliates/Publishers for each Customer brought by their own marketing efforts.
There are four core players involved in the Affiliate Marketing Model, including:
Suppliers (also known as Merchants or Advertisers): Businesses providing products or services that are looking for customers;
Publishers: The person or unit that owns the traffic sources helpful in promoting products and services of the Suppliers.
Affiliate network (MasOffer as an example): a platform that connects Suppliers and Publishers
Customers: final users that purchase a product, service, or other behavior requested by the Supplier (e.g., installing an app, taking a survey …)
The highlight of Affiliate Marketing versus traditional advertising methods is the way of charging commissions based on Sales, which is Suppliers only pays to Publishers when Customers accepted delivered goods.
How to make money with Affiliate Marketing?
There are 3 forms of earning commissions, including:
Cost Per Click (CPC)
This is the most basic form of Affiliate Marketing, which commissions will be paid when customers visit the Supplier's website through the Publisher's ads. The commission fee will be calculated based on the number of clicks, e.g 500d / click.
CPC is the most easily fraudulent form as Publishers can manually click on the affiliate marketing link to receive commissions, so this form is no longer used much in Affiliate Marketing.
Cost Per Action (CPA)
As the most common form of Affiliate Marketing model, Publishers will be paid a commission each time a customer performs a specific action requested by the vendor, such as: answer a survey, register new account …
However, this form also appears fraudulent loophole when the Publisher can themselves participate in or use false information to perform the actions required by the Advertiser. Consequently, CPA is no longer as popular as before.
Cost Per Sale (CPS)
CPS is the most modern, attractive and durable form of affiliate marketing for both the Supplier and the Publisher, with the principle of mutual benefit. In this form, the commission is paid only when there is a finished transaction of goods and services between the Supplier and Customer.
Since commissions are calculated for each successful sale, CPS is a form of affiliate marketing that ensures equity and profit for both parties, avoiding fraud issues. So CPS is currently the most popular trend when joining Affiliate Marketing.
This is also the form of commission sharing that MasOffer is now using.
WHY SHOULD YOU PARTICIPATE AFFILIATE MARKETING?
Here is the answer for the question of why a Publisher should participate in affiliate marketing:
You can get started now without losing any cost when joining Affiliate Marketing Network.
You do not need to own the product, or worry about warehousing or shipping issues, but still be able to deliver the product to the customer.
No need to rent a site or store, just with a personal website (website, fanpage …) or knowledge of running ads, you are able to reach hundreds, thousands to millions of target customers.
High commission value: Unlike a CPC or CPA ad, Masoffer's commission is calculated based on the value of the order, so you can receive up to hundreds of thousands of dong per order, which other forms of monetization can hardly bring. In addition, commission from MasOffer is always the highest in the market, of which Publishers can be assured.
Last but not least, Affiliate Marketing will give you a job opportunity of a relaxed work. Whenever it is, wherever you are, you can still make money 24 hours a day, 365 days a year, and even when you are sleeping.
EARN MONEY WITH 4 SIMPLE STEPS ONLY
Follow the following model to understand how Affiliate Marketing and MasOffer operate: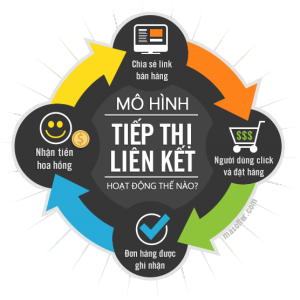 1. Publishers create & share sales links.
2. Customers click and order.
3. Customers click and order.
4. Publishers receives commission.
SUGGESTIONS ON STARTING WITH AFFILIATE MARKETING
No matter how attractive it is, Affiliate Marketing still needs you to invest before making a lot of money. Here are some suggestions:
Select the products and services that you've already known or used to, to start with and if you love it, this will be a great decision. However, when you are not sure about your options, ask the Masoffer consultants in order to make the right choice with the market demand as well as gaining the highest commissions. Do not hesitate to consult because it would be difficult to succeed if you do not really understand your field.
Make sure your media channels like blogs, websites, fan pages, etc. are attractive, easy to use, able to direct users to your desired product and possess good content. It will bring positive emotions and influence to your customers.
Do not be too greedy for high commission products. Affiliate Marketer should invest in products and Suppliers that match the content of their website to be the best effective and avoid wasting resources.
Make sources of traffic for your site. Everybody doing Marketing and earning money online understands that: The more visitors your site have, the greater the opportunity for sales is.
Work closely with the affiliate marketing system you join, participate in Masoffer's sharing community, share interesting monetization tips in the MMO community or hunt for promotions that help affiliate marketers earn hundreds of millions every day from the Supplier.
What are you waiting for? Let's earning money through Affiliate Marketing with MasOffer – the leading network marketing affiliate in Vietnam right now to take the opportunity to cooperate with the largest brands in the market: Lazada, Zalora, Tokepedia, Blibli, Evelenia,…